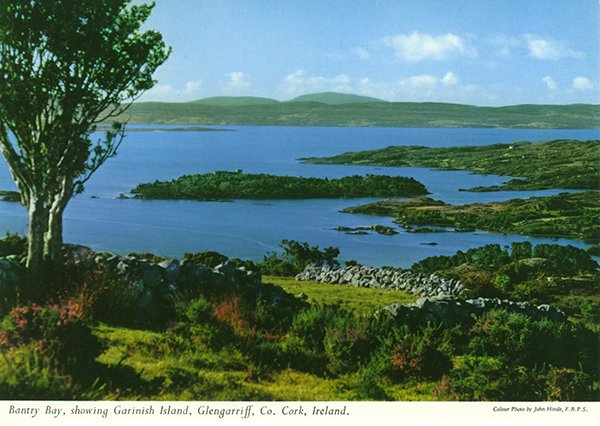 Return to Bantry Bay. Just as Francis O'Neill returned in very different circumstances from when he left at 16— in his mid-fifties as a newly retired Chicago Chief of Police. At this time, his books of Irish tunes were gaining acceptance in Ireland and America.
A view like the above would have been a welcome sight for someone who had left many years before, having seen so much of the rest of the world. Of course, John Hinde colour postcards come later than O'Neill's time. However, for me they evoke the exile's view of Ireland— hyper-realistic colours with a dream-like quality. Hinde's unique photographs capture something unique about the Irish landscape, akin to hearing the traditional music of Ireland.
Gillian O'Brien has started a project to re-shoot these iconic images. The idea is to take a picture that matches the original Hinde postcard and post it on Twitter with the hashtag #ReshootingJohnHinde. The details on how to stitch the old and the new photos are on Gillian's blog. The results will be available on my site http://ronanodriscoll.com/maps/ once we have a chance to add them.
It's summer time, let's add some great photos!