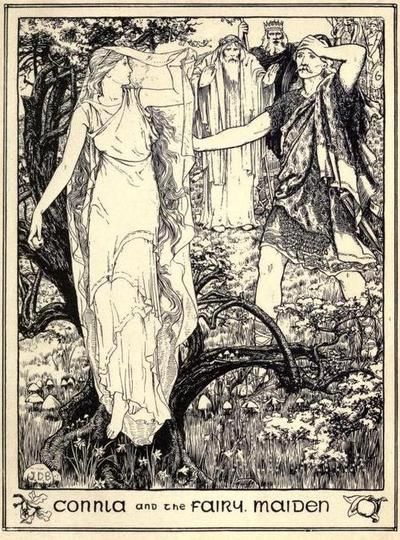 Many of the tunes O'Neill collected made reference in their names to the fairy folklore of Ireland: The Fairy Queen, King of the Fairies, The Fairy Boy etc. In Victorian England and America, there was a fascination with the "wee folk" that tended to sentimentalize this side of Irish culture. It persists through to the current day.
In truth, many people in rural Ireland were terrified of being cursed by the pishogues up until modern times. Belief in the power of the fairies was a strong remnant of pre-Christian Ireland. O'Neill would have been aware of this darker side of the culture and mentioned (in Irish Folk Music [1910]) a witch casting a curse near his homeplace of Tralibane bridge. It is fair to say he was not too influenced by these things himself and would be bemused to see the kitsch that attends Leprechauns and Saint Patrick's Day.
Junior Crehan (1908-1998) was a great West Clare fiddler and composer of tunes. One of his most famous jigs he claimed was actually given to him by a Leprechaun (or Luachrachán as he called him) in return for a favour. Here is a fine recording of it played by three of his nephews.