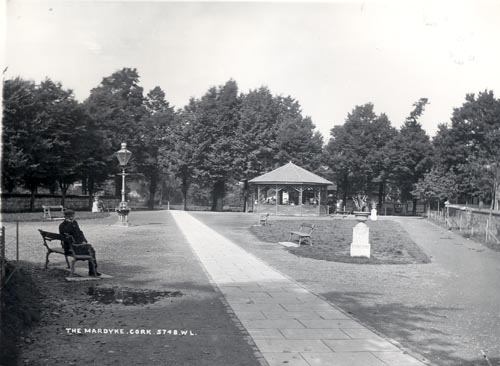 The broad Lee river flowing through Cork city is prone to flooding. At the point near University College Cork and The Presentation Brothers Secondary College (where Francis O'Neill might well have ended up as a teacher) a dyke was erected in the eighteenth century and the area drained to be kept as public parkland. From Wikipedia:
The original dyke was constructed in 1719 by Edward Webber, the city clerk, who owned what were then marshy islands west of the walled city. He drained and landscaped the area, building a dyke topped by a straight promenade leading to a redbrick teahouse in Dutch style. The area became fashionable and the promenade was dubbed the Red House Walk or Meer Dyke Walk after the Meer Dyke in Amsterdam.
It is a memorable section of the city that features in many songs, poems and literary works that refer to Cork. James Joyce describes players walking through the leafy shade to the famous cricket grounds there in A Portrait of the Artist as a Young Man. I wonder if the larger reclaimed park land along Chicago's lake shore ever recalled the Mardyke to Francis O'Neill.
Most famously, the Mardyke is mentioned in the anthem of Cork city and county: The Banks of my Own Lovely Lee. Here arranged by another famous musical Cork native, Seán Ó Riada.