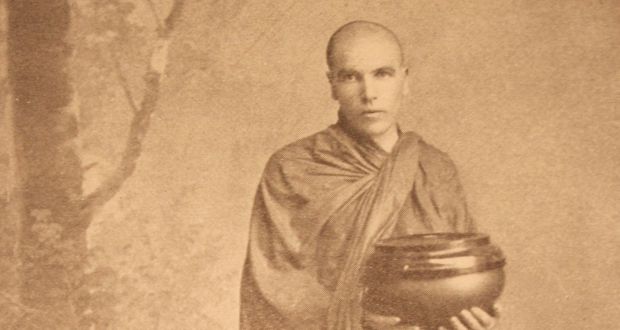 This blog has previously covered some of the remarkable historical connections between Francis O'Neill and the far East, particularly Japan (See The Boys from the East). Today's Irish Times has an article about possibly the first Westerner to become a Buddhist monk. Thomas Mannion (senior curator of EPIC The Irish Emigration Museum in Dublin) begins his account of a remarkable life with a comparison to O'Neill:
Francis O'Neill, a young emigrant who also served in such a capacity aboard a transatlantic sailing vessel would later go on to become chief of police in Chicago and a man who, more than any other, helped to preserve Ireland's rich traditional music heritage. In the early 1870's another Irish born cabin boy arrived on the shores of the eastern United States and began a remarkable journey that would take him across two continents and into the history books.

"The mysterious Irishman who was the first westerner ordained a Buddhist monk" – Nathan Mannion (IT – January 3rd, 2020)
Needless to say, this article piqued the interest of this blog! O'Neill wrote in his memoirs of his travels in the East: Indonesia, Japan, Hawaii. These adventures included being shipwrecked on a tiny Pacific island. It is interesting to compare how differently the two men's lives turned out: one as music collector and Chicago chief of police; the other speaking out against British imperialism in Burma, an activity he was ultimately executed for.
The nineteenth century was a time of great Western interest in the "East", often as an irrational opposite to be suppressed and conquered. However, I believe O'Neill's interest in preserving traditional music grew from an appreciation of other traditional cultures and the existential threat they faced from industrialisation and colonialism. This was something he witnessed firsthand in Ireland and abroad, making his writing about the Orient very different from the dominant narrative of the time.
To conclude: the amazing (and very young!) Planxty playing a tune from the O'Neill collection with "East" in the title.