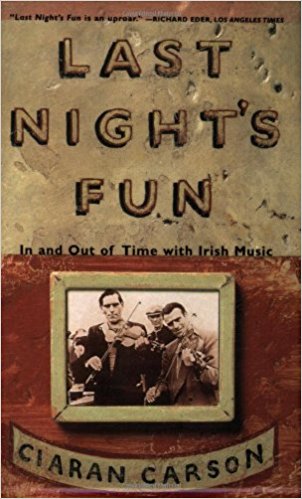 If Irish traditional music was a required course at school, one of the main books on the curriculum would be Ciaran Carson's Last Night's Fun. Of course, another primary text would be O'Neill's Music of Ireland.
Carson's irreverent and idiosyncratic homage to the music and its traditions has a penultimate chapter on the Chief titled, appropriately enough, Chief O'Neill's Favourite. It was my first introduction to the fascinating history of his life.
The rest of the book is a delightful selection covering a number of loosely connected topics: a mouth-watering description of the Ulster fry; nights playing music in a session that never ends; favourite instruments and how best to play them and depictions of various great figures from the tradition.
One chapter titled, Last Night's Fun, is a thumbnail sketch of the too short life of the great accordion player Joe Cooley. His legacy included many tunes and also a single live recording (simply titled Cooley) that is a treasure to listen to.
If you have any interest in Irish Music, pick up this classic work by Ciaran Carson.
Joe Cooley (on accordion) playing The Wise Maid, not long before his death from cancer.