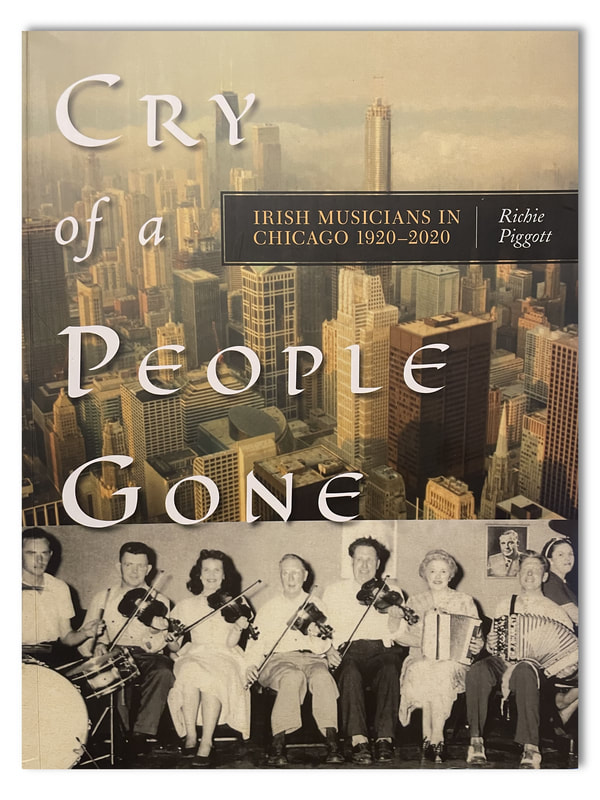 Although I have been occupied with other things, I thought I should revisit this blog with a little review of Richie Piggott's magnificent Cry of a People Gone. Full disclosure, Richie is a friend of mine and helped me during my research on Chief O'Neill. I can easily say Richie's book is, in many ways, a continuation and culmination of what O'Neill began over 120 years ago. Like O'Neill's writings, Richie's work is an encyclopaedic overview of Irish music in Chicago: covering the many characters and stories of the musicians and their communities in the period in the wake of O'Neill's influence.
There are too many areas to cover but background on the forgotten Selena O'Neill, a prodigy praised by Francis O'Neill in his later years as well as details on more recent celebrated artists such as Liz Carroll and Michael Flatley are some of the gems available. Like O'Neill, Richie is not a full-time musician but a successful businessman in his own right. Nevertheless, Cry of a People Gone is the result of a number of years of research and connections from living over 20 years in the Chicago area. To quote the Irish Echo's admiring review: "Ultimately, this is a truly outstanding book that every fan of Irish music should own, especially those with a connection to Chicago."
Also, check out Richie's website for a treasure trove of archival material. He has recently uploaded some rare manuscripts of Edward Cronin (a huge influence on Francis O'Neill who appears in my novel). Watch the space as Richie promises to post more there in the future.